Tooth loss has a detrimental impact on many aspects of both dental health, physical well being and quality of life. Missing teeth can affect your self confidence, speech, dietary habits and even your ability to obtain employment. It also set off a cascade of dental problems that can compromise the health of existing teeth.
Dr. Emily Lin, Dr. Maggie O'Connell, Dr. Nicole Esquilin, and our specialist Dr. Millard Mazer at Canton Dental Associates offer complete services for the placement of all types of dental implants. Our experienced and highly trained team can work with you to restore a natural looking and functioning smile after the loss of one or more teeth. For edentulous patients, a full arch of teeth can be restored with stable results using implant secured dentures.
We offer sedation dentistry for your comfort during the initial surgical phase and will create a personalized treatment plan to achieve your cosmetic goals with dental implants. Routine dental cleanings in our Baltimore dentist office and good daily oral hygiene habits will allow your dental implants to last for years.
Schedule an Appointment
Canton Dental Associates is a team of general, cosmetic and restorative dentists in Baltimore with a commitment to gentle and compassionate patient care. We welcome new patients and serve many local communities including Canton, Federal Hill, Patterson Park, Fells Point, Harbor East and the Greater Baltimore Area.
Contact our office on Boston St. at (410) 675-3300 to schedule your appointment and learn more about the many benefits of dental implants.
Overview
---
About Dental Implants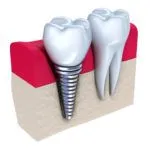 Dental implants—considered restorative dentistry—allow patients to experience natural-looking, beautiful smiles even after tooth loss. Dental implants are a modern and permanent solution to replace missing teeth—they look and function like natural teeth, allowing you to smile and eat with confidence.
Dental implants can replace a single tooth, several teeth or full upper and lower sets. Canton Dental Associates performs an in-office procedure called All-On-Four™ to replace full upper or lower sets—attaching a full arch of prosthetic teeth to only four implants.
Why Choose Dental Implants?
There are certain key benefits that make dental implants the ideal choice for your long term dental health and daily quality of life:
Reduced bone loss in the jaw: the titanium post effectively replaces the lost tooth root and stimulates healthy bone cell growth in the jaw
Stable restoration: dental implants are secure and permanent- no worries about your your teeth "falling out".
No daily maintenance: there is no need to use adhesives daily as your implant is fixed and secure.
About The Procedure
---
The Dental Implant Process
Dr. Lin or your Canton dentist will discuss all aspects of the dental implant process prior to treatment so that you will know what to expect and how to care for your oral health between steps for the best result.
Dental implant procedures require installing titanium screws—or posts— that fuse to the jawbone, creating a solid foundation for a prosthetic tooth or crown. The post heals—and permanently fuses to the bone— in about 3-6 months. The permanent fusion precludes the implant from slipping or moving. Possible side effects include mild to moderate pain, facial bruising, gum swelling or possible infection.
A dental crown is then customized and permanently attached to the post.
All-On-Four™
---
Replacing A Full Arch of Teeth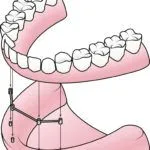 The All-On-Four™ procedure has revolutionized the replacement of a full arch of missing teeth. The entire top, bottom or both arches of teeth can now be permanently and securely replaced using dental implants and a cosmetic hybrid denture.
Your dentist will place as few as four smaller dental implants in strategic places in the jaw to support your denture and to help maintain your natural bone structure.
This process for the All-On-Four™ procedure is unique and dependent upon accurate and timely treatment planning. After impressions and digital diagnostics are taken, the small implants are placed and a temporary denture can be secured the same day for immediate function.
Once complete, your new custom denture will be fit and secured for a beautiful and comfortable new smile.